March 09, 2020
S3Corp.- Happy International Women's Day
8/3-The International Day is always a special day for all women around the world. At S3Corp., we also want to take this special day to honor and express our gratitude to all women members.
There are multiple presents had been prepared by our gentlemen. This would be a challenge for them when they have to learn how to wrap a gift. Some of them said that was their very first time to do this challenging work. Some failed and some succeed for the first time. Yet, above all, that was all love they want to express through these little gifts.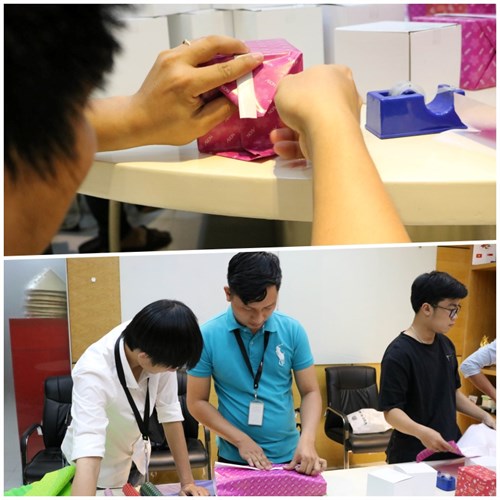 On 8 March, some of our guys had been presented very early to prepare and give those little surprises to all women at S3Corp. Due to SARS-CoV-2, there will be no practical present than the hand sanitizer and pair of face mask. Hopefully, this will help them to fight against pandemic.
S3Corp.-Happy Hour-Happy International Women's Day
In the afternoon, we spent another time together in the happy hour. This is one more time and officially we honor our women at S3Corp. There's a lot of delicious food, surprising gifts, stories to be told and funny games. That's would be a memorable day for all in this very special event.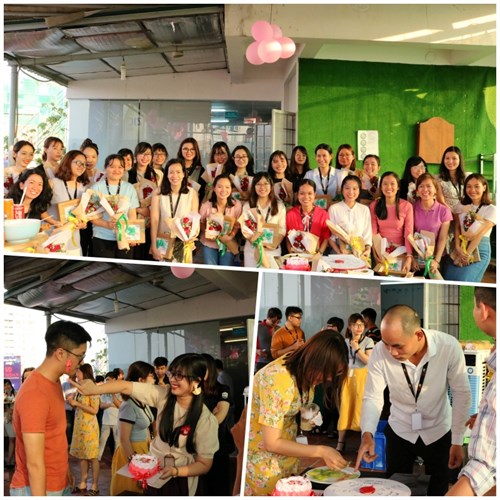 Besides those activities on 8 March, many other activities happened before that such as taking pictures and check-in, writing a letter and sending it to all or particular women. Here, we would like to borrow a letter from one of our men to express our love and gratitude to all women members at S3Corp.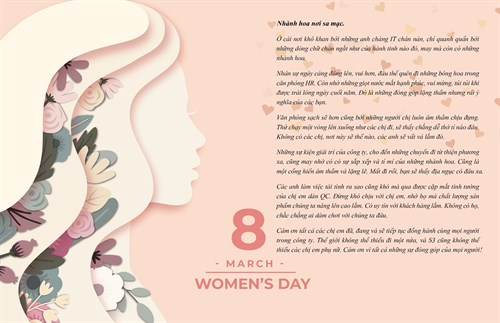 We all know that at S3Corp., women have been making great contributions to the sustainable development of the company. We highly appreciate your efforts and what you have done to make S3Corp. a leading software development service in Viet Nam and global markets.
Thank you, you are wonderful!
Happy Women's Day, Ladies!!!