May 07, 2018
BEE FIGHTER 2018 REGISTRATION
Are you ready to ATTACK THE RIVALS and BECOME THE KILLER?
Now it's your time! Try your utmost to be the killer at BEE FIGHTER 2018 arena! 
Where are your brothers in arms? Find them and join now.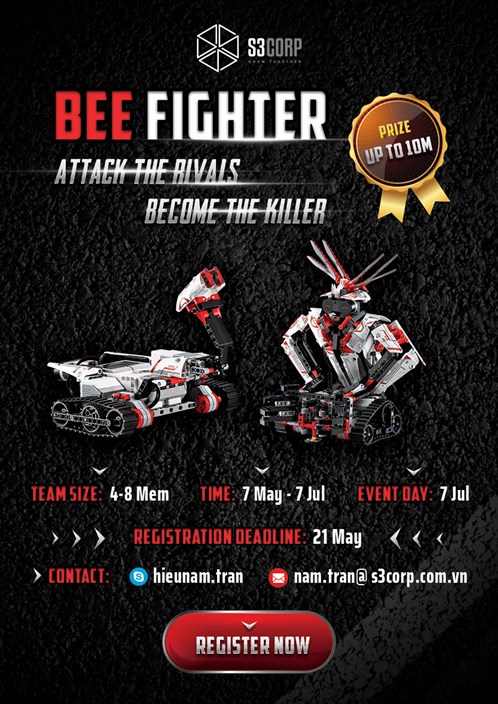 EVENT DETAIL:
Participants:
All S3 members are encouraged to join
Team:
-        Size: 4 – 8 member
-        1 captain. Please register Team Captain in order to help organization team to contact with each team.
-         Note: at least 1 female controller.
Timeline:  7 May 2018 – 7 Jul 2018
The instructions, guidelines and demo will be introduced to team captains in the introduction meeting.
Everyone will gather together to check progress and help to resolve any issues.
Compete with other teams to find the winner
Prizes:
3 main prizes: #1 place, #2 place , #3 place
3 sub prizes: Decorations, Technical, Teamwork
Team support:
 Each team will be provided with a fixed budget: 800,000 VND.
 Note: The car created by the team and the control app will be returned to S3 after the event in order to be placed in the exhibition room.
 There is no more budget for any team which spend more than the fixed budget. But every team is encouraged to build the best cars you can.
Development content:
 Hardware:
    * Build a remote-controlled car use Arduino, Raspberry Pi, or any MCU.
    * Each car will be attached with balloons (side, back). The balloons will be attached in the Event Day, by the organization team.
    * Each car must include needles (1 - 3) in the front. Those needles are the main weapon, and will be used to break the balloons of opponents.
    * Each team allows to attach more weapons to fight or protect the balloons from opponents.
    * The guidelines for creating the car will be describes for each team.
Software:
    * Build mobile (Android/iOS) app to control the car.
    * Note: Team must use Sound only to control the car. Team allow to use voice, music, sound, or scream to control.
Communication:
    * Wireless (Blue-tooth, Wifi, Radio...)
Game rules overview:
Each match takes max 5 mins, and consists of 3-4 teams
Each match is in a closed arena.
Team controls the car remotely using voice to fight against opponents.
Each car uses its main weapons (needles) to break others' balloon.
If the car loses all the balloons, it will be taken out of the match.
The sooner taken out, the less match point.
If there are more than 1 remaining car when the match finishes, the point is based on the number of balloons left.
Register:
Deadline: 21 May 2018
Contact:
Mr. Nam Tran - Skype: hieunam.tran/ Email: nam.tran@s3corp.com.vn
Or CLICK HERE to register now!