February 09, 2018
S3 CAR RACING EVENT 2018
In late January, we came to witness a very emotional S3  Car Racing event with 9 teams participating and hundreds of people cheering for them.
Right after the competition was announced, the teams had started to work together to come up with the ideas on how to win the race, along with additional awards. Some of them focused on the source code to make their car run faster and easier to control, while the others decided to make the car more revealing and unique. In just one week, we started to see some racers practicing on the top floor after work. Needless to say, everyone was getting more and more excited as the racing day was drawing near.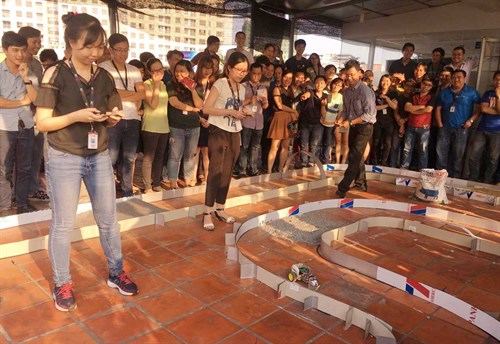 The main event took place on a sunny afternoon. Hot weather and sandy, rocky terrain put a lot of pressure on our female racers. However, in order not to let their fans down, they gave it their all and finished the race spectacularly. The crowd burst with joy.
Congratulations to the champion "Pop pi yes" and 2 runner-up "Hot Pot" and "One Minute", and great thanks to all the teams who gave us those very wonderful moments.