April 24, 2022
S3Corp. Received Sao Khuê Awards 2022
S3Corp. was honored to receive the Sao Khue title 2022 from VINASA on April 23rd, 2022, for its excellence in software outsourcing services and a significant contribution to the Vietnam IT sector.
We are pleased to inform you that on Saturday, April 23rd, 2022, VINASA (Vietnam Software and IT Services Association) awarded S3Corp the "Sao Khue Recognition of Excellence 2022" award category: Software Outsourcing Service.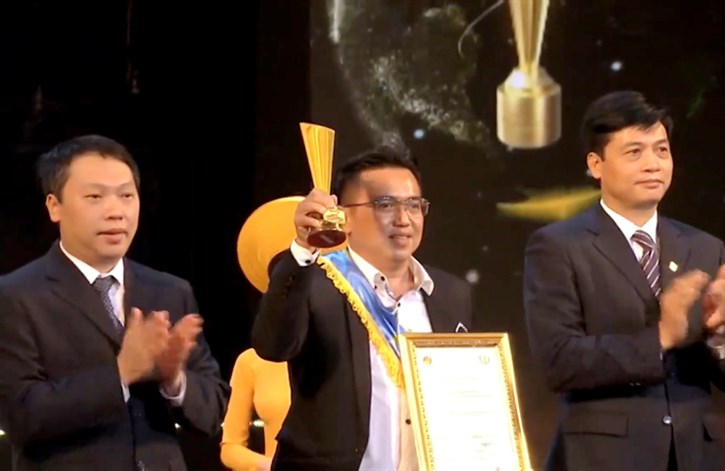 Mr. Le Nguyen, Business Development Director, represented for S3Corp. in receiving the Certificates of Recognition.
It is a special award given to people who have achieved great success and made significant contributions to the development of the Vietnam IT market, particularly throughout the phases of digitalization.
S3CORP RECEIVED THE "SAO KHUE AWARD" IN 2022 - AN ICT AWARD FOR EXCELLENCE IN IT OUTSOURCING SERVICES.
About Sao Khuê 2022
Sao Khue award becomes a trusted award in Vietnam's IT business and gains the trust of the IT business community since its inception in 2003.
Furthermore, being the most prestigious award for Top Software Development Companies in Vietnam, Sao Khue has now become a reference for IT businesses looking to connect with clients across the globe.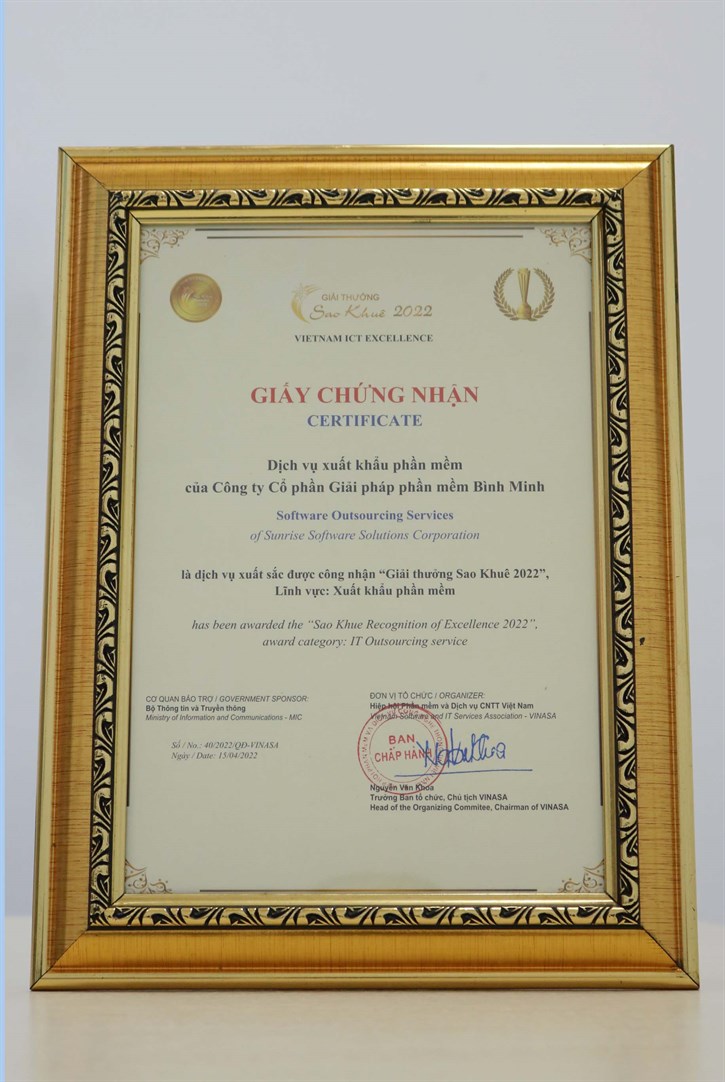 About S3Corp.

Established in 2007, S3Corp.'s proud of itself as a leading software development company based in Vietnam.
With hundreds of clients around the world, we have developed and delivered hundreds of projects with high quality and great cost savings.

Our Software Development Services:
Custom Software Development - Web Applications - Mobile Applications - Blockchain Development - UI/UX Design Service – Desktop Applications - Product Development - Full Lifecycle Development - Product Verification and Quality Assurance - IT Management Services and DevOps - Research and development (R&D) IT application and software products.
Over the past fifteen years in the IT market, S3Corp. has won the trust of clients all over the world for the remarkable quality of its products and professional software services.
We are always confident to be technological stack pioneers and deliver the best-outsourced services. In addition, We strive to increase efficiency and deliver the most practical value to our employees, customers, and partners.
This is our fourth time receiving this prestigious title. It helps S3Corp. to establish itself as the leading software development company in Vietnam. The awards are not only a source of pride for S3Corp., but they also strengthen the brand in the IT industry.
It positions us at the top of the list of software collaborators for clients all over the world, motivating us to continue dedicating our best efforts and passion to providing high-quality software solutions to consumers globally.
We would like to thank our dedicated team for their passion and outstanding effort which contribute to our growth and development. The Sao Khue Award 2022 became a deserving reward for all of S3Corp's employees and partners. Many thanks to all for your contributions.

In addition, we also would like to extend a sincere thanks to all of our customers who put their trust in us so that we can achieve this prestigious award.

At S3Corp., we focus on quality, innovation, and client satisfaction. We will continue to strive for excellence in delivering high-quality software services solutions that meet the requirements of the customers.