December 27, 2021
S3Corp. Was On VTC2 Channel-Sao Khuê Awards 2021
Yesterday, on December 26th, 2021, S3Corp. was privileged to be featured in the "Sao Khuê Tỏa Sáng" program.
"Sao Khuê Tỏa Sáng" is a TV program broadcast on VTC2 to recognize the IT outsourcing companies that won the Sao Khue Awards 2021.
About Sao Khuê 2021
The Sao Khue Award is a prestigious award given yearly by the Viet Nam Software and IT Services Association (VINASA) to companies and individuals who have made outstanding achievements and had significant contributions to the development of the Vietnam Software and IT industries.
Since its initial launch in 2003, Sao Khue has established itself as a credible award for the Vietnam IT sector and has earned the trust of the IT business community.
About S3Corp. 
Established in 2007, S3Corp. is gradually establishing itself as a reliable partner in the IT industry and as the ideal choice for clients all over the globe to entrust their software projects.
Hence, over 15 years in the market, we have been proud to be one of the leading Vietnam Software Outsourcing companies.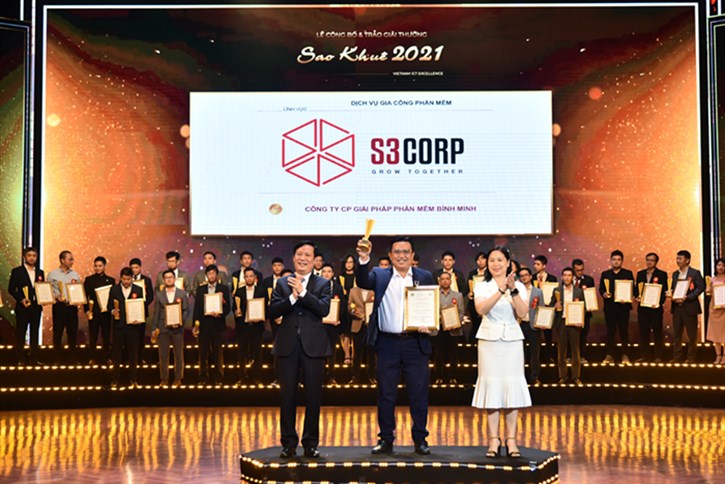 S3Corp. is always proud to provide the best software development services and solutions for our clients, enhance efficiency and bring the most practical value to employees, customers, and partners.
Our IT software development services include Product Development (that will include Full Lifecycle Development, Web Application Development, Mobile Application Development, UX/UI Design, Desktop Application Development); Product Verification and Quality Assurance; IT Management Services and DevOps; Research and development (R&D) information technology application and software products.
Our foundation is "Growing Together." This foundation can assist us in enabling the firm and also stakeholders to accomplish its goals and succeed in the market environment. 
In the upcoming years, S3Corp. will continue to focus on enhancing service quality to maintain its recognition as a top software development services company in Vietnam; while also continuing to innovate and strive for more to provide ever-better products and services to the IT industry.