November 09, 2018
S3 Corp Sport Tournament 2018 Registration
S3 Corp is going to hold S3 Sports Tournament of 2018 on November and December.
With purpose to promote healthy exercises and sports among S3's member, it's time for us to relax and motivate connection after facing many working challenges.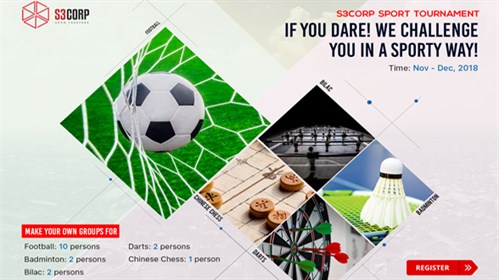 EVENT DETAILS:
Participants:
All S3 members are encouraged to join.
Timeline:
November – December 2018
Details of competition schedule will be updated to you after Registration time.
Competing Game:
Football
Badminton
Table Football
Darts
China Chess
Game rules overview, awards:
Please take the attachment for game rules information.
Registration Deadline:
5PM on Thursday (15 Nov 2018)
General Contact:
Truong Vo (Skype: truong.vos3 or Email: truong.vo@s3corp.com.vn)
Now please click here CLICK HERE to register now!