Today, with such rapid changes in technology, business seems to move more smoothly than ever. This can create strong competition among businesses.
-How can you deliver your products to the customer in the fastest and most economical way?
-How does your successful business stay at the top of the competitive environment?
-How do you start any business relating to or requiring software?  
The answer for these tough questions is 'software outsourcing services'.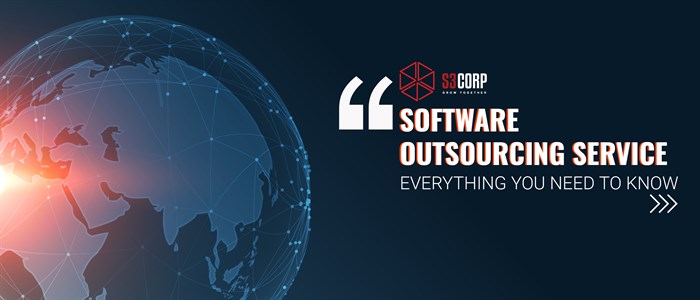 What is software outsourcing service?
According to the Encyclopedia, outsourcing is the arrangement made by an employer who hires an outside contractor to perform work that could be done by company personnel. In the case of software outsourcing, it can be understood in the same way, but more regarding to software development. It is the way of hiring a skillful or expert third-party to work on complex tasks relating to software or develop software for your best business outcomes according to the requirement and business field.
There are several ways to carry out software development. The enterprises or entrepreneurs can hire and gather a developer team and start to run that project by themselves. However, this will require a lot of money and take much time on training and working on the project. Here, outsourcing will be used. Outsourcing services can be a developer team or an outsource company who are experts in the software development field. By hiring or choosing to outsource, you can get not only the amazing results in software development but also release the burden of money, time, and many other things which the in-house team can't offer you.
In a nutshell overall, software outsourcing means using the skills and expertise of a third-party to handle complex tasks relating to software development, whereby you can achieve the best outcomes for your business.
Types of software outsourcing services.
There are many types of outsourcing services. In this very limited article, the three main types of software outsourcing services will be discussed as below:
This means that you will hire a third party in a neighboring country. For example, when you are in China, and you want to hire and be in partnership with a software outsourcing services company in Vietnam. In this case, Vietnam will be a nearshoring software outsourcing to China.
This means you hire a third party within your country. For instance, you are in the United States, and your company wants to hire a software outsourcing company locally. Hence, the United States will be an onshoring software outsourcing destination to the US company.
This means that you will hire a software development outsourcing company from another country. Again, suppose your company in the United States, and you want to work or hire a software development outsourcing company from another country such as China, India, or Vietnam. Here, China or India or Vietnam will be offshore software development destinations to the US company.
Outsourcing models
We have discussed the types of outsourcing services based on location or distance. Now we will look at the many types of outsourcing models which will help you see the different ways to utilize this type of service based on the relationship between the clients and the software outsourcing provider. Of the many types of models involved in the software project, there are three primary models.
Staff Augmentation Model
The staff augmentation model is when the client will hire temporary software developers by contracting with the software outsourcing provider instead of hiring a permanent developer; in order to fill the gap within the in-house team, especially skill sets, and thus accomplish your software project.
For example: Supposing, you are running a software project, your in-house team needs to be enlarged because the deadline is at hand. Hiring new developers in this case is a choice to fill the gap in the project. Training the existing resources for the same purpose would be another choice. However, both of these choices require more time when you have a deadline for the project. It also needs to be mentioned that if you hire new staff and your project will soon be completed, how you will use this new resource is a challenge. Or, if training the existing staff, this requires more time, and no one can assure that after training, they are able handle the tasks from the project. Here, staff augmentation will come in-house.
By contracting to the software outsourcing provider, they will provide the client with elite developers with skill sets, specific to the needs of their client. They will work along with the client for the best quality outcome of the software project. In this case, you, as a client, are still in control of the project from start to finish. It also means that you have to take care of distributing tasks and responsibilities, even providing a workplace for the developers. The software developers may wish to choose whether they work at your office or their office.
However, once you sign the contract, they are part of your human resource, so you have to take care of them. In turn, the software developers also have the responsibility to ensure the tasks are completed and it reports to the team on time. With this model you need to choose a talented and skillful developer that fits the needs of the project. This would include defining a clear goal and even the entire process of the project. Once done, the software provider can assist the client in choosing a suitable way forward.
Dedicated Development Team Model
The Dedicated Development Team Model is a model where you, as the client, will entrust your software project to an outsourcing software partner who will, in return, provide a high quality and professional team to take care of your software project from start to finish. The professional team here will provide every single role that a software project needs for bringing the project to fruition -software developers, project manager, business analyst, quality assurance, etc.
Providing a professional team here also means that they will take care of matters relating to recruitment, infrastructure, vacation, team-building, sick-leave, administration, etc. In turn, you will discuss with the outsourcing provider the team size, skill sets, time for launching, adding some more requirements, and your involvement in the process.
Once this model is applied, the development team is yours. You have the right to be directly involved in the project in terms of managing the team if you want. Alternatively, you can trust the project manager from the service provider who will help you stay up-to-date with tasks and how your project is progressing. The development team is in your hands. You are in control and can make any changes. The Dedicated Development Team Model would be a great choice for company to purchase the best business outcomes. However, you should only invest in this model if it is a long-term, dynamic and complex project.
Project-based Model
In the Project-based Model (another name is software outsourcing model or outsourced development team model) you will hire an outsourcing software development company. You will allow them to take full responsibility for the project in accordance with your requirements and expectations. This means that you will be hands-off all things relating to the project. And you will give the development team flexibility in the whole process from beginning till the end. This will give them the most flexibility with the project. For example, defining and taking care of the process, providing the skillful team and manage it, applying the most suitable technology for your project, etc. What you want to do or to see in this model is the result rather than the process.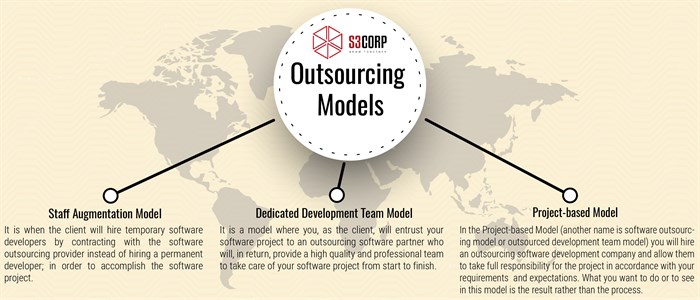 Why software outsourcing services?
Software outsourcing would be a good strategy to start within this challenging time. Some reasons for that is cost-saving, time-saving, the cutting edge of technology, etc. This service will help you stand out from the market, increase productivity, and boost your business. Below here are the top 8 reasons which can help you have a clear vision of why software outsourcing would be a good choice.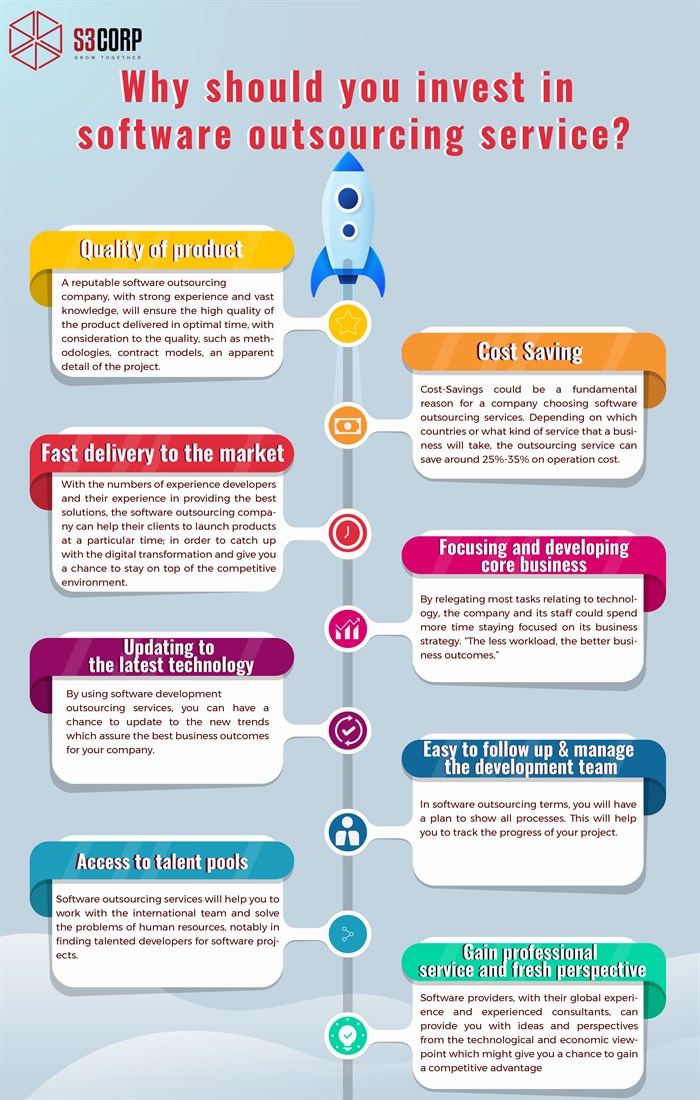 Read more: Why should you invest in software outsourcing service?
When to outsource?
The answer may be simply depending on the need of business. However, eight reasons below will help you know whether you are in need of software outsourcing or not.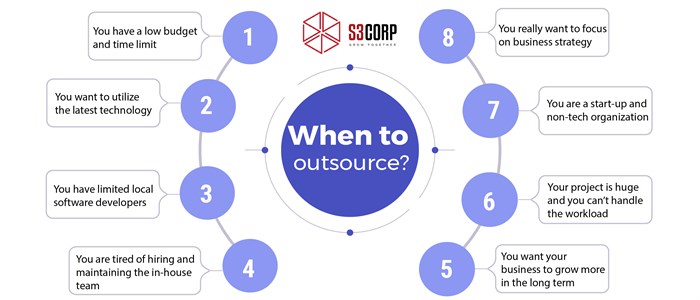 How to choose the software outsourcing company for your project?
There are hundreds and thousands of software outsourcing providers around the world. How to choose among these companies is always a tough question. You can't just simply say 'I like this one'-even you have the right to do that. Picking up randomly is easy but to ensure that the company can bring the best quality products or the best business outcomes for your company is another story. Here are the few steps which might be helpful for you to choose the right software outsourcing company.
Firstly, Define your goal clearly.
This is a significant step because you can't go anywhere if you don't know where you are going. You should define the goal/goals that you want to achieve. Remember that a clear vision can give you a clear direction. This will help you to know where to go and what you are trying to achieve in business terms. It will also help the software outsourcing supplier to not only give you the best solutions but also provide the skillful developers that meet your needs and goals.
Secondly, Define the type of services that you will use.
This means that whether you prefer onshore outsourcing, nearshore outsourcing, or offshore outsourcing, each of those will have advantages and disadvantages of their own. This step is vital because it will require you to consider the different time zone, the pay rate per hour for each developer, their communication skills, and so on.
This step might then lead you  to the question "Where is the best destination for software development outsourcing service?".
The answer that readily comes to mind is India and China. These two countries are well-known and are leaders in the software development outsourcing field. However, this article will introduce another option for your software outsourcing destination. That is Vietnam. Recently, Vietnam has been becoming a rising star among Asian countries and becoming the top leading country in technology in general and in software development outsourcing service in particular.
There are many reasons which can affirm you that Vietnam will be a great destination and the right choice to invest in software outsourcing services. According to AT Kearney in their 2019 edition of the Global Services Location Index (GSLI-this index edition means to identify locations that can best provide information technology (IT), business process outsourcing (BPO)), Vietnam has been moving up one position compared with 2017 edition-from sixth to the fifth position. This shows that Vietnam is day by day becoming a great destination for technology investment. In other words, Vietnam is becoming the tech hub among the Asian countries.
Besides that, costs-saving is also a great advantage when investing in Vietnam. Compared with India and China, outsourcing to Vietnam can save you 50%. And compared to the US, this can save you 90% in costs, according to CIO Magazine.
The quality of the developers is also increasing in skills and knowledge. A large number of universities and training centers have opened and invested in information technology courses and courses relating to the IT field. According to Hackerrank, Ho Chi Minh City University of Science of Vietnam stays in the top three universities that have the best coders in the world
Those above and a significant number of other reasons can assure you that Vietnam will be an excellent choice for software outsourcing services.
Thirdly, Make a list of potential software outsourcing company.
There are multi-ways to do this. For example,
Use Google Search/Bing/Yahoo, etc… Use some keywords to look for information such as "Offshore Solutions Provider", "Vietnam Offshore Solutions Provider" if you are investing to Vietnam, "Software Outsourcing Service", "top software outsourcing companies."  You can simply type any other keywords- programming language, CMS, etc…. The search engines will give you a few ideas for choosing the right company. However, you should not rely only to this result. Doing some further researches would be a good idea.
Ask referrals or recommendations from friends or partners if they have already used software outsourcing services. This is a secure channel because your friends/relatives/partners already have experience working with those companies. Thus, they will know which one is best, and how expert, professional, and experiential these companies are.
Check social media tools, especially LinkedIn and Twitter. From these social media channels, you can get to know more about who they are, their culture, etc… Of course, these channels can't give 100% right about what you want. However, this will at least give you some ideas and options to choose.
Check your email box, even the spam mailbox. Just check it. Maybe some companies did send you an advertising email, but for some reasons, you ignored it.
Fourthly, Do thorough research on their background.
The next step when you already have a number of good companies is to check their background. The following questions will guide you to on what you have to research.
Reputation ?
How professional they are?
What are their skills and domain knowledge? This is an essential question because it will help you to filter suitable companies for your project. If the company has no online profile but you have heard that it has a good reputation, then you will contact them personally.
Check their case study. A case study will project you how the company solve the problems whether they're similar to yours or not. 
The length have they been serving in the market?
How large the company is?
What types of development are they using? Agile or Waterfall?
Normally, after you have a number of companies, if you do the research carefully and take the information from trustworthy sources, you can go forward to contact the company you've chosen. However, this step is not a redundant step. This will assure you about the company and help you to know who is handling your project.
Contacting your potential partner.
After completing your research and if you are satisfied with the results you can then proceed to contact potential partners. You will need to introduce yourself, your problems, your project, your expectations,...If you want, you can require their solutions or ask for a consultation. You can ask them for references from previous project and clients.
Finally, if that company fits your expectations and requirements, you are on the right track. And if everything is going well, you wait for the results and see how quickly your business will grow.
In conclusion
This article is presented to give  general information relating to software outsourcing services. The guidelines above for choosing a software outsourcing partner will help you to find the best software outsourcing company that fits your requirements and expectations.
If you are considering to build up your project and want to seek a leading offshore software development company that can help you grow your business and stand out on the market, don't hesitate to contact us
About S3Corp - A leading software development outsourcing services in Viet Nam
Founding 2007, S3Corp. is a leading software development outsourcing service based in Ho Chi Minh, Vietnam. S3Corp. has a proven track record in an ever-challenging and competitive market. Employing a scalable pool of talent with strong experience in the software outsourcing industry along with the application of proven processes and standards, we offer our customers extensive software services.

Our services range from full software development, new feature development, existing feature enhancement, automation test tool development, testing and maintenance support services, and more.
S3Corp. is very pleased to serve more than 25 countries around the world, especially in North America (US, Canada), APAC (Australia, Japan, Singapore, Malaysia, Hong Kong, Korean, etc…)
"Growing Together" is the foundation of our company, where we work with our employees, customers, and partners to create an outstanding collaboration. We have built a strong foundation of experts to enable our company and stakeholders to pursue our goals and prosper in a competitive market.
With the development of the domestic market and the great challenges from the global market, S3Corp. believes that with the efforts of the board of managers and our members, S3Corp. will certainly take advantage of the golden opportunities in the future.
Thanks for reading this ultimate guide. Don't forget to give it a share.