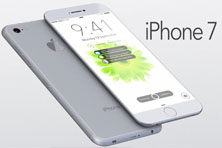 Image source: Internet
Apple is planning to announce the next version of the iPhone on September 7, according to Bloomberg's Mark Gurman.
The company has not officially announced, according to leaks, the annual conference will take place on Wednesday of September. It is reasonable when many leaked information from a number of networks in the world said that iPhone 7 could start pre-order in September.
However, the newest report of Nikkei Asian report said that the 10th generation iPhone just have 2 model will release in that time instead of leaking information and picture before. At the first, iPhone has plan launch 3 models but with the decrease of revenue in the first half of 2016, they decide only launch 2 model of iPhone 7 and iPhone 7 Pro.
In addition to iPhone, Bloomberg said the new model of the MacBook Pro will present several improvements. Already four years, this laptop line without major changes, apart from the upgrade to the configuration. MacBook Pro new version is rumored to thinner, lighter 12-inch, use the function touchscreen.
Soure: internet